Multidyscyplinartny Ultrasonograf LOGIQ S8
Ergonomiczna i lekka budowa aparatu LOGIQ S8 sprawia, że z łatwością sprawdza się on w niewielkich pomieszczeniach. Jest to doskonały aparat bogato wyposażony w uznane technologie gwarantujące wymaganą, wysoką jakość obrazowania. Wyjątkowe możliwości obrazowania nowej generacji dla wszystkich pacjentów, bez względu na budowę ciała. Uniwersalna platforma ultrasonograficzna o wielu zastosowaniach — zarówno do badań ogólnych, jak i specjalistycznych. Z kolei niezwykle efektywne narzędzia do zarządzania obrazami pozwalają uzyskać dostęp do najważniejszych informacji.
Wszystko to za cenę dostosowaną do każdego budżetu.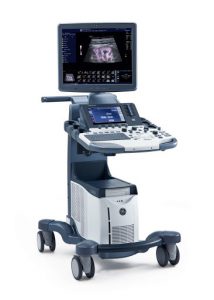 General specifications
Dimensions and weight
Height Maximum: 1750 mm (68.9 in)
Minimum: 1150 mm (45.3 in)
Width Keyboard: 500 mm (19.7 in)
Caster: 620 mm (24.4 in)
Depth Maximum: 880 mm (34.6 in)
Caster: 790 mm (31.1 in)
Weight 85 kg (187.4 lbs)
Electrical power
Voltage 100 – 120 Vac or 220 – 240 Vac
Frequency 50/60 Hz
Power consumption Maximum of 900 VA with
peripherals
Console design
4 Active probe ports and 1 parking
Integrated HDD
Integrated DVD multi-drive
On-board storage of thermal printer
Integrated speakers
Locking mechanism that provides rolling lock and caster
swivel lock
Integrated cable management
Front and rear handles
Easily removable air filters
User interface
Operator keyboard
Operating keyboard adjustable in two dimensions:
• Height
• Rotation
Backlit alphanumeric keyboard
Ergonomic hard key layout
Interactive back-lighting
Integrated recording keys for remote control of up to 6
peripheral or DICOM** devices
Integrated gel warmer
Touch screen
Wide 9" high-resolution, color, touch, LCD screen
Interactive dynamic software menu
Brightness adjustment
User-configurable layout
LCD Monitor
19" high-resolution LCD
LCD translation (independent of console):
• 660 mm horizontal (end to end)
• 135 mm vertical (end to end)
• 90° swivel
Fold-down and lock mechanism for transportation
Brightness and contrast adjustment
Resolution: 1280 x 1024
Horizontal/Vertical viewing angle of ±170°
System overview
Applications
Abdominal
Obstetrical
Gynecological
Breast
Small parts
Vascular/peripheral
Transcranial
Pediatrics and neonatal
Musculoskeletal
Urological
Cardiac
Operating Modes
B-Mode
M-Mode
Color Flow Mode (CFM)
TVI (Option)
B-Flow*/B-Flow Color (Option)
Extended Field of View (LOGIQView, Option)
Power Doppler Imaging (PDI)
PW Doppler
CW Doppler (Option)
Volume Modes (3D/4D)
• Static 3D
• Real-Time 4D (Option)
Anatomical M-Mode
Curved Anatomical M-Mode
B Steer+ (Option)
Coded Contrast Imaging (Option)
Elastography (Option)
Scanning methods
Electronic Sector
Electronic Convex
Electronic Linear
Mechanic Volume Sweep
Transducer types
Sector Phased Array
Convex Array
Micro convex Array
Linear Array